This is a publicly shared Knowledge Article from the Power of Us Hub - an online community for nonprofit and higher ed Salesforce users.
Join the Hub.
Product Documentation
Change, Close, or Delete a Recurring Donation
This article contains these sections:
Change a Recurring Donation
Sometimes you may need to change a Recurring Donation based on new information from your donor. They may decide to shorten or lengthen the time frame of giving or perhaps increase or decrease the amount of each installment. In this situation, you can edit the Recurring Donation record but be aware that NPSP deletes and re-inserts any related open stage Opportunity records, which can result in lost data. For this reason we recommend that you close the Recurring Donation and create a new one.
You can also click Refresh Opportunities to schedule future Opportunities for the Recurring Donation and recalculate rollups.
Close a Recurring Donation
In the Nonprofit Success Pack, navigate to the Recurring Donation you want to close.

Click

Edit

.

Select

Closed

from the Open Ended Status drop-down menu and click

Save

.
All open child donations will be changed to a Closed Lost stage by default, or whatever you've specified in your Recurring Donations settings. Donations marked Posted remain unchanged.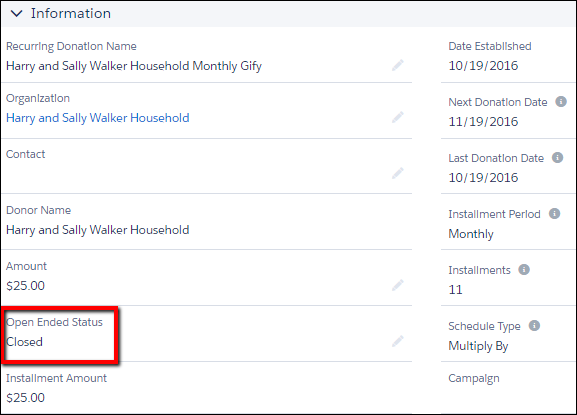 On the Donations related list:
Delete a Recurring Donation
When you delete a Recurring Donation, NPSP deletes associated Opportunities. If there are any associated Closed/Won Opportunities, you won't be able to delete the Recurring Donation. You must first delete these records manually before you can delete the Recurring Donation.